Friday, October 23, 2009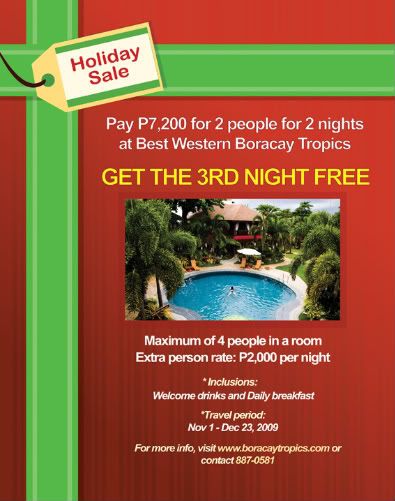 Be a
Hit A Bargain! Facebook Fans
(to sign up, just click on the Facebook logo on the right-hand side column of their website), you get a chance to win a FREE 3days/2nights stay at Best Western Boracay Tropics, by doing the simple steps below:
Answer the questions below and email your reply to hitabargain@gmail.com.
What can you say about Hit A Bargain! site? Comments and suggestions are welcome.
How can you help them spread the word about Hit A Bargain! site?
Tell them why they should choose you to win the Best Western Boracay Tropics FREE 3 Days / 2 nights gift voucher
Share this freebie promo via email to at least 20 of your friends (click the "Share This" button below at the end of this page and choose your email host or Facebook to send this promo to your friends). Make sure to copy furnish: hitabargain@gmail.com.
Deadline of submission is on December 15, 2009.
Source: Hit A Bargain